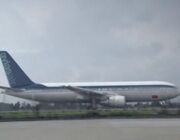 Article Stub
This article is a stub. You can help THEtvEVENTwiki by expanding it with descriptions, pictures or some creativity.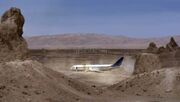 Avias Airways Flight 514
is an
Avias Air
flight that took off from
Miami, Florida, USA
en route to
São Paulo
, Brazil.
Sean Walker
, dressed in an airline uniform, boarded the flight in Miami in an attempt to stop the pilot,
Michael Buchanan
, from hijacking the plane and flying it into the
Presidential Retreat
in Coral Gables, Florida.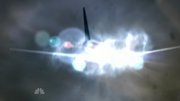 Simon Lee
tries to keep the flight from taking off by contacting the control tower in hopes they can keep the plane on the ground. Unsuccessful, Simon then tries to chase the plane on the runway. This too fails and the plane takes off. Michael highjacks the plane with the intent of crashing it into the Presidential Retreat. Before Michael's plan can succeed, the plane disappears into a
magnetic disturbance
.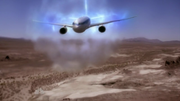 The plane appears on the other side of the disturbance in
Yuma, Arizona
. Even though the planecrash-landed, the passengers survived. Sean helps the flight attendant and the Air Marshall evacuate the plane. The last person off the plane is Michael and he warns Sean that approaching helicopters are not "help" and that he needs to flee the crash scene and find
Leila
.